The advancement at a glance
PQ stands für PureQuality. Experience the advantages of PQ now.
The challenge
Our challenge was to create a folding roller with a long service life that performs without markings, consisting of a coating that is non-sensitive to any type of cleaning agents and external impacts.
Our solution
Completely covered in a special surface developed by us, the folding rollers surface shows no metal, allowing for a marking free outcome. The coating is non-sensitive to any cleaning agents and exhibits very little abrasion compared to poly-urethan coatings which contributes to an extended service life of the PUREQUALITY.
Your advantages
Extended service life reducing the need to exchange the folding roller

Unbeatable price to performance

Our PUREQUALITY is compatible with all current folding machines, reducing time and effort
Holding over 30 years of experience in the folding roller sector we are excited to present our very own, long-term tested and self-developed folding roller.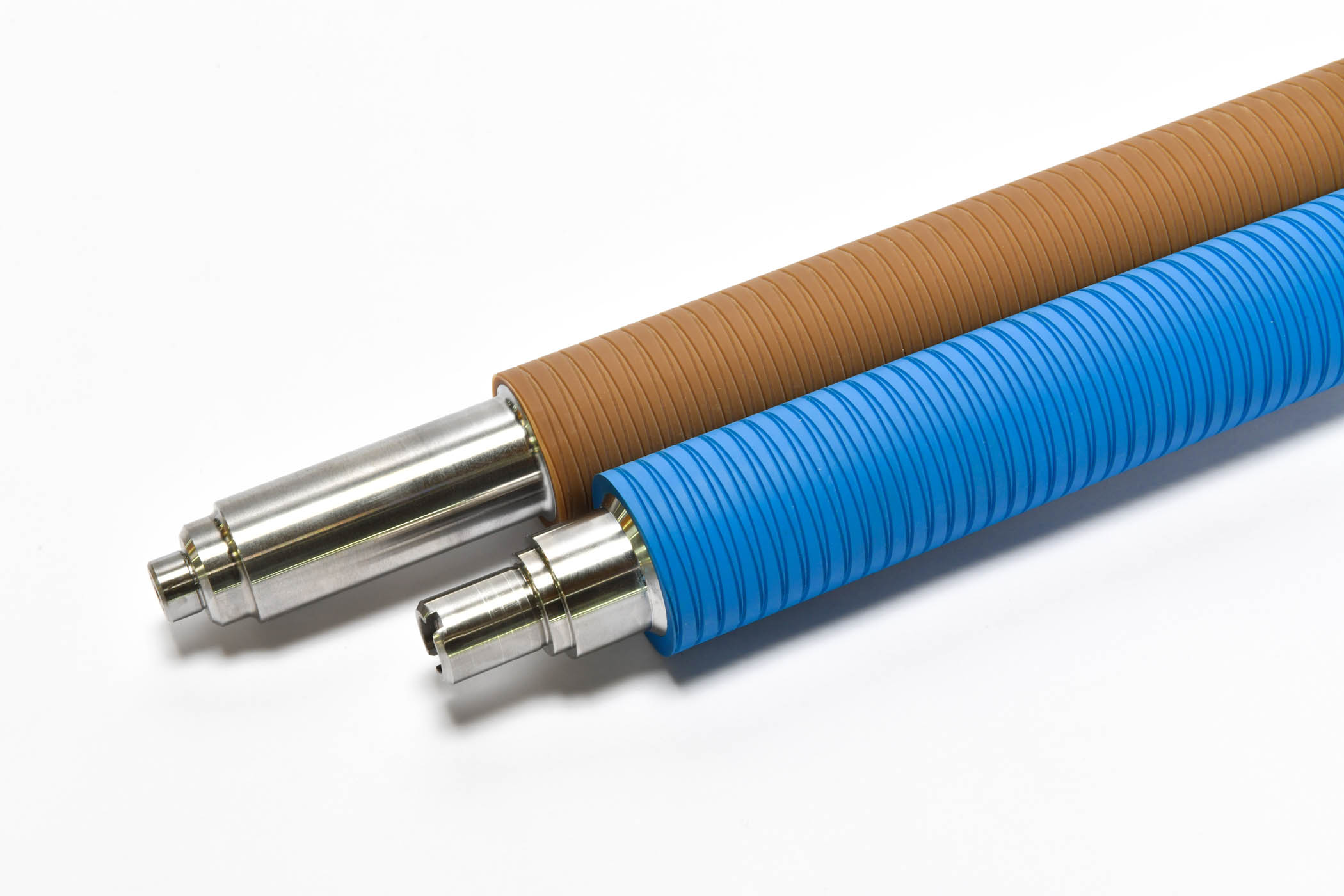 Coating
Specially develpoed coating in different grades of hardness depending on your requirements.
Durability of our coating: High durability against oils, greases, cleaning agents and carbon hydrides, cost efficient deterioration and comparatively little abrasion.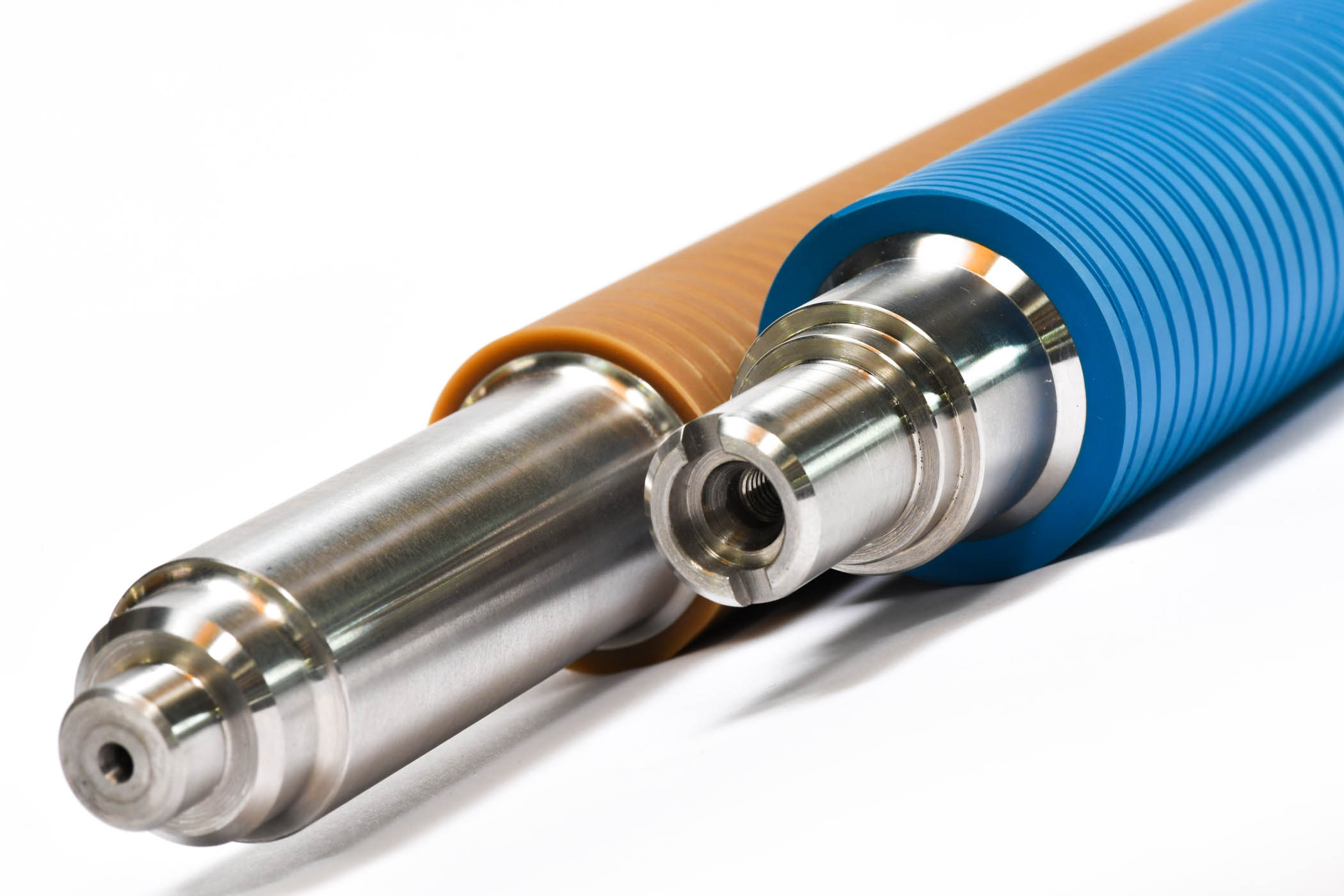 Rilling
Our special and innovative cross-rilling replaces the metal knurl known in "conventional" rolls. This facilitates the carry-off of lint and pigment particles, resulting in clean folding and results.
Additional construction and performance information
Due to the full faced coating our rolls/fillisters work absolutely marking free in comparison to conventional rolls.

The full faced coating is cross-rilled, enabling the carry-off of pigment particles away from the folding unit without throwing it onto the buckle plates as seen on conventional rolls.

The newly developed coating can be wiped off and cleaned with almost any type of cleaning agent without damaging the coating or impacting its durability, for example: Dilution, acetone or gasoline.

Long-term testing has shown, that our products service life is 2 to 4 times longer compared to a conventional roll, regardless of its grade of hardness.

Our PUREQUALITY, the roll manufactured by Uwe Evers Graphics, is verifiably compatible with any type of conventional folding machine on the market (Stahl, Heidelberg, MBO, Horizon, Herzog & Heymann, etc.).

Our rolls are not only easier but also quicker to adjust to the paper that needs to be clinched due to their low sensitivity to the varying pressure between rolls.

The cutting-edge rolls can be re-coated as many times as desired, a feature that is not exhibited in conventional rolls without strict limitations. In conventional rolls, the metal part of the unit needs to be grinded down and after 3-4 times of grinding, the diameter of the roll is often times too small to enable the proper transport of paper.

Cost efficient production in Germany allows our PUREQUALITY to leave behind any competition due to its price to performance and long service life.
Customized to fit your specific requirements
Feel free to use the form below to get a customized offer that fits your specific requirements. Your technical revolution is waiting for you!
Additional services
Every good product comes with additional services – perfectly customized to fit your needs.
EXCHANGING THE ROLL
To provide you the best service possible, we offer the option to exchange and install our roll directly at your location. The best thing about it: You are absolutely flexible in terms of time as you can wait until the next exchange cycle in which you would need to change the roll anyways. We will be there for you to exchange your old roll and install our PQ. You will be amazed!!
ADDITIONAL & SPARE PARTS
Often times rolls need the correct additional parts. Take ball bearings for example: They make up the basis for the roll, ensuring that it runs smoothly and upholds its long service life.
Any additional parts – including spare parts for your folding machine – are conveniently available at our shop from one source.
CUSTOMIZED LABELING
Order your 100% personalized roll from Uwe Evers Graphics.
We customize and personalize your roll, making sure it meets your requirements and fits your corporate design to let your brand shine through every aspect of your business.
Read, what our customers say.
"The rolls tolerate small mistakes and are easy to adjust – way easier than similar products. There are no markings or streaks and the rolls are unbelievably simple to operate."
Switching was never this easy
Feel free to use the form below and send us your information and necessary requirements to get your customized offer – your technical revolution is just a few clicks away!